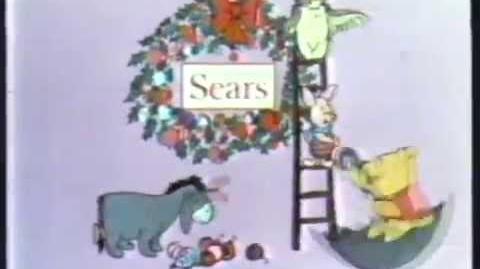 In 1977 when NBC aired "Winnie the Pooh and the Honey Tree", in the beginning the opening credits were edited to make room for a Christmas themed sponsor tag for Sears featuring Piglet, Owl, and Eeyore putting together a wreath with the Sears logo in the middle of it and Pooh comes in floating in an upside down umbrella.
The same case happened again the following year (in 1978) when NBC aired "Winnie the Pooh and the Blustery Day".
This was not found on any home entertainment format releases.
Ad blocker interference detected!
Wikia is a free-to-use site that makes money from advertising. We have a modified experience for viewers using ad blockers

Wikia is not accessible if you've made further modifications. Remove the custom ad blocker rule(s) and the page will load as expected.