Before its release on April 27, 2012, Rob Dyrdek's infamous
Wild Grinders
TV series comes with a special set of shorts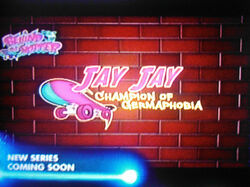 called
Behind the Skater
. The only three Grinders who are interviewed in Behind the Skater are Lil Rob (The Power of Hustle), Jack Knife (Dumb and Dedicated to it), and Jay Jay (Champion of Germaphobia). Jay Jay's Behind the Skater interview is the only short that is neither fully found nor heard of.
An image of Jay Jay's interview, showing the title card, was posted by Tumblr user skaterfantasy, who have once watched the full interview.
Ad blocker interference detected!
Wikia is a free-to-use site that makes money from advertising. We have a modified experience for viewers using ad blockers

Wikia is not accessible if you've made further modifications. Remove the custom ad blocker rule(s) and the page will load as expected.