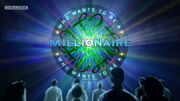 Who Wants To Be A Millionaire Is A Game Show Which Ran From 1998 to 2014 on ITV
Information On The Pilot
This Pilot Was Made 1 Week Prior To The Official Series Going On Air And Is Different From Official Series.
(See Differences Below)
Differences
The Music Is Completely Different From The Official Series, The Theme Song Is Different And Sound Effects Are Different. Another Noticable Difference Is That The Question Does Not Have A Box Around It Like The Question Boxes. One More Difference Is The Lighting Which Was Bright And Changed.