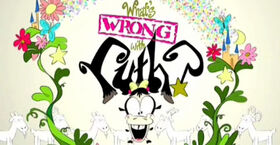 What's Wrong With Ruth was a rejected pilot for Cartoon Network made in 2007 by William Reiss (Who worked on Chowder and SpongeBob SquarePants).
There's nothing much other information on it other than the picture, cast & crew, an article, and on forums. It use to be watchable on William Reiss official website but the link is no longer working.
References 
Ad blocker interference detected!
Wikia is a free-to-use site that makes money from advertising. We have a modified experience for viewers using ad blockers

Wikia is not accessible if you've made further modifications. Remove the custom ad blocker rule(s) and the page will load as expected.