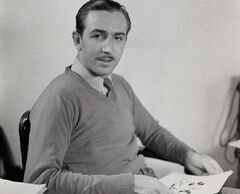 Sometime between 1922 and 1923, after legendary animator Walt Disney made Laugh-O-Grams, he proceeded to create a series of silent animated shorts which he dubbed Lafflets. There is extremely little information available on Lafflets , the only details being the names of the shorts in the series and only one screen shot: "Gold in Slow Motion", "Descha's Tryst with the Moon", "Aesthetic Camping", "Reuben's Big Day", "Rescued", "A Star Pitcher", "The Woodland Potter", and "A Pirate for a Day"All of the Lafflets shorts have been considered lost for many years now, and it is currently unknown if there are even any copies still in existence.
Ad blocker interference detected!
Wikia is a free-to-use site that makes money from advertising. We have a modified experience for viewers using ad blockers

Wikia is not accessible if you've made further modifications. Remove the custom ad blocker rule(s) and the page will load as expected.