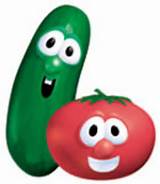 The first VeggieTales episode, titled "Where's God When I'm S-Scared," has some differences in original 1993 copies from the first 500 print run, such as:
The credits are placed at the end of each segment.
There are a few minor changes.
It came with a pamphlet, explaining what VeggieTales is.
The unfinished version of the theme song has been uploaded by JuniorAdventurer, and the rest of the tape was finally uploaded on August 4, 2017, onto a Google Drive.
Original episode: https://drive.google.com/drive/folders/0B0KA6uxd9Gxfc1NxdzM0M1FYQ3c?pageId=107177785848287241815
Ad blocker interference detected!
Wikia is a free-to-use site that makes money from advertising. We have a modified experience for viewers using ad blockers

Wikia is not accessible if you've made further modifications. Remove the custom ad blocker rule(s) and the page will load as expected.