Toy Story 2: Rescue Woody was a Flash Game on Disney.Com shortly after Toy Story 2 was released. The game has been long lost since around 2002-2003.
Gameplay
It was a 2D platform game with 4 levels. Buzz Lightyear is the playable character, If you beat the game, Woody is unlocked
Al's Toy Barn
Elevator Shaft
Al's Apartment
Airplane
Accessibility
An archived webpage for the game remains up. But the game cannot be played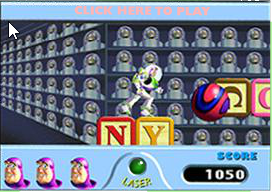 Ad blocker interference detected!
Wikia is a free-to-use site that makes money from advertising. We have a modified experience for viewers using ad blockers

Wikia is not accessible if you've made further modifications. Remove the custom ad blocker rule(s) and the page will load as expected.