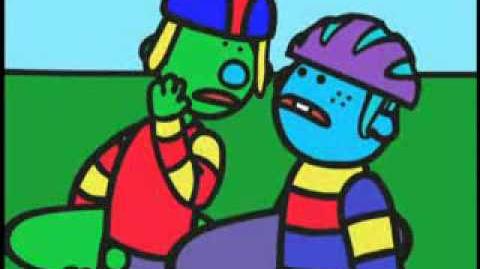 ToddWorld is an American educational children's television series that was first shown on TLC and Discovery Kids. The series first aired in 2004 and continued until 2008. It centers on a fictional version of Todd Parr and his friends as they learn lessons on teamwork and friendship.
From 2006 to 2011, CBeebies aired a British dub of the show. This dub cannot be found anywhere on the Internet and is considered forgotten. However, a clip of it is available on Tim Bruce (Benny's British Voice Actor)'s website. A ToddWorld DVD has been released in the UK with the title "ToddWorld - Volume 1", but it has the American dub as mentioned by an Amazon reviewer. All episodes of the show are available on Amazon Instant Video in the UK, although it is unknown whether it is the American version, or the local version.
Known Voice Actors
Declan Barnes (Youtube Username) - Todd
Tim Bruce - Benny
Tim Curry
Joanna Ruiz - Sophie
Justin Fletcher - Pickle
Findings
The clip of the British dub has been found! It can be viewed here: http://www.timbruce.co.uk/#/animation-video-clip-1/4534287384
Ad blocker interference detected!
Wikia is a free-to-use site that makes money from advertising. We have a modified experience for viewers using ad blockers

Wikia is not accessible if you've made further modifications. Remove the custom ad blocker rule(s) and the page will load as expected.