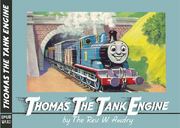 Thomas the Tank Engine is the 2nd book of The Railway Series published in 1946. However, when it was published in 1946, it had illustrations done by Reginald Payne instead of the ones done by Clarence Reginald Dalby. The 1946 edition was now lost but the original illustration example was found by TEngine on TTTE Wikia. In 2016, Daniel Celano won the auction on eBay and bought the original 1946 edition with the original illustrations.
Gallery
Ad blocker interference detected!
Wikia is a free-to-use site that makes money from advertising. We have a modified experience for viewers using ad blockers

Wikia is not accessible if you've made further modifications. Remove the custom ad blocker rule(s) and the page will load as expected.