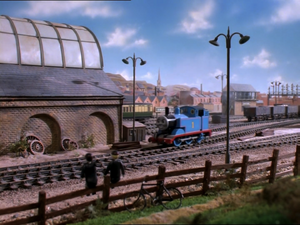 In the early 1980s, before the railway series book of Thomas & Friends were receiving the green light to be adapted into a televised form, a pre-production test pilot was made and was pitched to several networks, the pilot was based of the story called "Down The Mine" from the eighth book from the railway series, Gordon The Blue Engine. The test pilot was made by using fewer characters, fewer rolling stock, fewer sets, and flatter lighting, which was very different to the aired episodes of Thomas & Friends.
The test pilot episode was never really seen, no clips or screenshots of it are visible either, however, a shot from the 25th episode of the first season, Down The Mine, seems to be have been re-used from the pilot episode. When Thomas passes Knapford station, his model appears to be much more simplistic than the one used in the series, the main differences being the paint on his front splasher appears to be missing the red lining, his siderods seem more toy-like in appearance and his face is different compared to the one used in the series. As the pilot model of Thomas was no longer needed, the model was later on converted into a scrap engine used for the set dressings, the model was briefly seen in the 16th episode of the fifth season, Thomas Percy & Old Slow Coach, despite the model being fully converted into scrap, a small patch of blue paint was still visible on the model. It is presumed that the photo of Thomas which was seen on a 1984 Hornby set was the original pilot model, an illustration from the sixteeth book of the railway series, Branch Line Engine, was where Thomas' pilot model was based of.
Images of the pilot version of Gordon, by the model maker Christopher Noulton can be seen in an interview by Sodor Island Fansite.[1] The pilot model of Gordon was apparently revamped for use as a stand-by model in the second season of Thomas & Friends. Eventually, however, it was dismantled and used as a scrap engine for the scrapyards set dressing. The face mask used for the pilot model of Gordon was later on re-made and used as one of his face masks for the first season onwards.
Gallery
Videos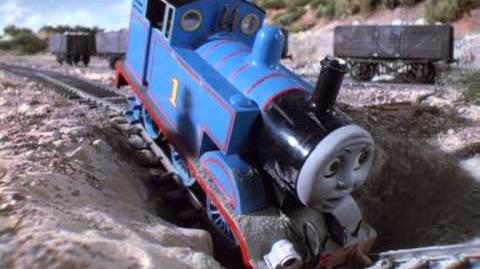 References
↑ Crewmember Spotlight on: Christopher Noulton. Retrieved 29 Dec '13.
Ad blocker interference detected!
Wikia is a free-to-use site that makes money from advertising. We have a modified experience for viewers using ad blockers

Wikia is not accessible if you've made further modifications. Remove the custom ad blocker rule(s) and the page will load as expected.