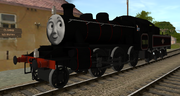 Barry the Rescue Engine is a cancelled volume of the Railway Series.
It has since been revealed by Christopher Awdry that the book had been created in the 1980s, but was cancelled due to the younger fans not wanting anymore new characters, but more stories of Thomas and his friends instead.
According to Chapter fifteen of The Thomas the Tank Engine Man entitled "Really Useful Engines", Christopher Awdry explains that he submitted the outline for Barry, but the response from the young fans was that they wanted Thomas and his friends, not anymore new engines. So he quoted: "But, I haven't altogether given up; you could say Barry is dead but not yet buried!"
Ad blocker interference detected!
Wikia is a free-to-use site that makes money from advertising. We have a modified experience for viewers using ad blockers

Wikia is not accessible if you've made further modifications. Remove the custom ad blocker rule(s) and the page will load as expected.