The Wiggles have been airing their TV show on Disney Channel around the world, including Australia, since 1999. However in 1998 around December 20, their first true full-length appearance on Disney Channel Australia was a TV special titled "The Wiggles Live at Disneyland Park".
The Australian Disney Channel staff filmed this entire special in Disneyland, including some of their live performances at the Fantasyland Theatre. Some people say that in the special, the Wiggles are on a Mickey Mouse search party. The Disney Channel Australia also filmed the opening where the Wiggles enter the airport and plane. Not only did the Wiggles debut their appearances on Disney Channel Australia, but also new gimmicks. One gimmick is where Captain Feathersword says "Well, blow me down" while one of the Wiggles such as Anthony blows him down and another is where Captain Feathersword has magical musical pirate buttons on his coat that can be pressed into different things such as make him talk fast and slow.
For some reason, the whole special was never released on home video and could not be found on the internet for a while, although some songs were once uploaded on YouTube in 2008 while a short silent clip of the Wiggles running around Sleeping Beauty Castle is shown on the documentary "Everybody Clap! Everybody Sing!" released on the Big Birthday DVD in 2011.
UPDATE NOVEMBER 22, 2014: A copy of the special has finally been found on YouTube. Let's give a big thank you to Joe, the user who found it!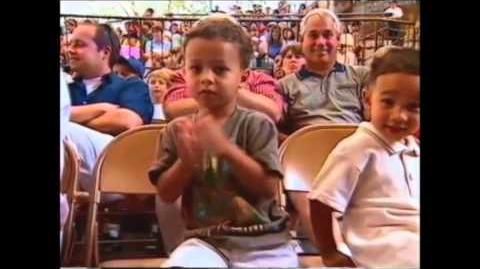 References
Ad blocker interference detected!
Wikia is a free-to-use site that makes money from advertising. We have a modified experience for viewers using ad blockers

Wikia is not accessible if you've made further modifications. Remove the custom ad blocker rule(s) and the page will load as expected.