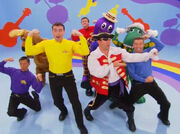 According to the Hit Songs and Rarities programme book, "Getting Strong!" was planned to be released in late 2006, but the release was cancelled when Greg left, and Sam joined the group. It was later re-filmed with him. The songs Getting Strong and Smell Your Way Through The Day can be found on the iTunes LP of Hit Songs and Rarities (Australia only) and YouTube.
Gallery
Ad blocker interference detected!
Wikia is a free-to-use site that makes money from advertising. We have a modified experience for viewers using ad blockers

Wikia is not accessible if you've made further modifications. Remove the custom ad blocker rule(s) and the page will load as expected.