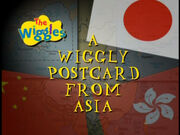 A Wiggly Postcard from Asia is a Wiggles TV special. Like The Wiggles Live at Disneyland, this special also aired on the Disney Channel in Australia in 2003, but hasn't been released on DVD yet. The entire special hasn't been shown on the internet yet, either. Only Behind the Scenes footage and production photos have been shown since the Cold Spaghetti Western DVD.
Gallery
Video
Ad blocker interference detected!
Wikia is a free-to-use site that makes money from advertising. We have a modified experience for viewers using ad blockers

Wikia is not accessible if you've made further modifications. Remove the custom ad blocker rule(s) and the page will load as expected.