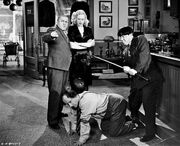 The Three Stooges were an American slapstick comedy group which debuted around 1930 and ended in 1970. The group featured Moe Larry and Curly. Later in 1947 Curly suffered a stroke forcing him to leave the act. After Curly's Departure former stooge member Shemp Howard(Curly and Moe's Brother) returned to the act in 1947. In 1955 Shemp Howard passed away forcing Moe and Larry to replace Shemp with Joe Besser in 1957. Besser would leave in 1959. Subsequent projects had Curly"Joe" DeRita filling in as the third stooge. In 1970 the act had ended
Deleted Scene Information
This deleted scene was cut from the 93rd short Three Loan Wolves which was released in 1946. Near the end of the short a boy who Moe Larry and Curly adopt tells him a story of where he came from. The boy would have triple slapped Moe Larry and Curly. This scene was most likely cut due to a kid hitting adults and due to the bad taste the scene was removed. The reason this scene is known to have been in the short is after the stooges finished their story they same to be holding their faces in pain.
To this day no known copies of the scene have been found or discovered.
Ad blocker interference detected!
Wikia is a free-to-use site that makes money from advertising. We have a modified experience for viewers using ad blockers

Wikia is not accessible if you've made further modifications. Remove the custom ad blocker rule(s) and the page will load as expected.