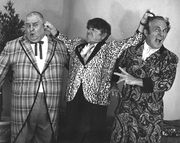 The Three Stooges were an American comedic act which ran from the early to mid 20th Century
.
Information.
After Larry Fine's death supporting actor Emil Sitka had been announced as a member of the trio. He's role was playing a new stooges known as Harry. Supposedly Harry was Larry's brother. At the time Moe Howard was suffering from Lung Cancer and later passed away in May 1975. It is unknown if the team had produced any projects with Emil Sitka. Only a few promotional photos exist online. During this time the group consisted of Moe Howard,Emil Sitka and Curly"Joe" DeRita.
Trivia.
One of the photos can be found on Emil Sitka's Website.
Ad blocker interference detected!
Wikia is a free-to-use site that makes money from advertising. We have a modified experience for viewers using ad blockers

Wikia is not accessible if you've made further modifications. Remove the custom ad blocker rule(s) and the page will load as expected.