The Smurfs and the Magic Flute
(French:
La Flûte à six schtroumpfs
, lit.
The Flute of Six Smurfs
) is a 1976 Belgian animated film starring the Smurfs, directed by their creator, Peyo.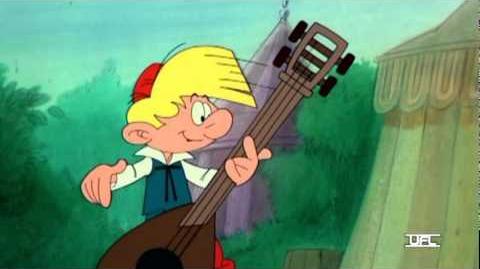 History
In the 1980s, a Latin Spanish dub named "Los Pitufos y la Flauta Magica" is known to exist. The voice cast in the dub consist of the Spanish Smurfs TV cartoon voice actors. After the European Spanish dubs' VHS releases were marketed in Spain, the dub is completely rare and hard to find.
Found footage
To commemorate the Smurfs' CGI/live-action movie's release, a user named UFL2001 finds a few excerpts of the Latin Spanish dub of The Smurfs and The Magic Flute and uploaded them to YouTube in 2011. However, there's still a complete version existing somewhere...
Ad blocker interference detected!
Wikia is a free-to-use site that makes money from advertising. We have a modified experience for viewers using ad blockers

Wikia is not accessible if you've made further modifications. Remove the custom ad blocker rule(s) and the page will load as expected.