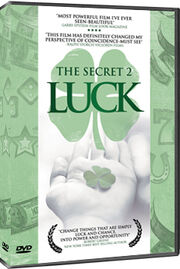 In 2012, Reagal Films, infamous for
A Day With SpongeBob SquarePants: The Movie
, created a film called
The Secret 2 Luck
. It was a film related to luck and chance.
Information
Not much about this film is available. Reagal Films' website lists the film title and the plot (Reagal Films' website has a virus, so as a warning, visit it at your own risk).
Trivia
The plot is available at Reagal's website.
Very little information about the film is available.
This film is not as infamous as Justin Bieber: Fever, The Steve Jobs Documentary and A Day With Spongebob Squarepants: The Movie.
Ad blocker interference detected!
Wikia is a free-to-use site that makes money from advertising. We have a modified experience for viewers using ad blockers

Wikia is not accessible if you've made further modifications. Remove the custom ad blocker rule(s) and the page will load as expected.