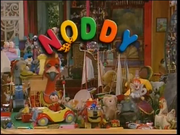 Noddy
 also known as
The Noddy Shop
or by the shows UK title 
Noddy in Toyland,
 is an Canadian & British spinoff of Noddy created by
Rick Siggelkow
who also created a similiar show 
Shining Time Station 
with Britt Allcroft. 
The series uses the Noddy series 
Noddy's Toyland Adventures
 as segments in two parts during the episodes while the American production uses new voice actors and new music for the segments the UK Dub keeps the old voice actors and old music. 
Broadcast
Noddy was broadcasted on PBS and CBC from 1999 to 2002, and on TVO from 1999 to 2004.
Found Episodes and Clips
Episodes with this symbol * = UK Dub
Lost Episodes
"Monkey Business" (LOST)
"Mixed up Magic" (LOST)
"April Fool" (LOST)
"Lost and Found" (LOST)
"Twinkle, Twinkle Little Goblins" (LOST)
"The Tooth Fairy" (LOST)
"Making up is Easy to Do" (LOST)
"If at First You Don't Succeed..." (LOST)
"The Birthday Party" (LOST)
"Telling Tails" (LOST)
"It's About Time" (LOST)
"A Promise is a Promise" (LOST)
"The Big Race" (LOST)
"The Magic Show" (LOST)
"Hooray for the Kids" (LOST)
"The Mystery Box" (LOST)
"We All Say Boo!" (LOST)
"Trying Something New" (LOST)
"The Fish Story" (LOST)
Following Directions" (LOST)
"Mixed Up Masks" (LOST)
"Truman, Come Home" (LOST)
"Recipe for Learning" (LOST)
"Recycle and Reuse it" (LOST)
"Telling the Whole Truth" (LOST)
"Secret Valentines" (LOST)
"Sing Yourself to Sleep" (LOST)
"Jack Frost is Coming to Town" (LOST)
Let's Go Fly a Kite" (LOST)
"Think Big" (LOST)
"Noah's Leaving" (LOST)
"Anything can Happen at Christmas" (LOST)
"Little Swap of Horrors" (LOST)
"Dance to Your Own Music" (LOST)
"Ask Permission" (LOST)
"Take a Stand" (LOST)
"The Sandman Cometh" (LOST)
"Be True to Who you Are" (LOST)
"All Play and No work" (LOST)
"Lights, Camera, Chaos" (LOST)
Part of the Family" (LOST)
"Big Bullies" (LOST)
"Paying Attention to Kate" (LOST)
"Thunder and Lightning" (LOST)
"Going Bananas" (LOST)
"Slugger" (LOST)
"Find your Own Song" (LOST)
"The Big Showdown" (LOST)
"Growing Lies" (LOST)
"The Human Touch" (LOST)
"Be Patient" (LOST)
"Kate Loves a Parade" (LOST)
"Closing up Shop" (LOST)
External Links: