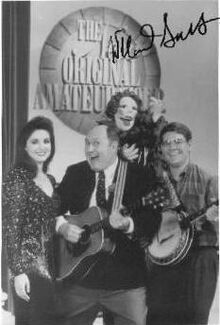 The Original Amateur Hour is an American radio and television program. The show was a continuation of Major Bowes Amateur Hour which had been a radio staple from 1934 to 1945. Major Edward Bowes, the originator of the program and its master of ceremonies, left the show in 1945 and died the following year. He was ultimately succeeded by Ted Mack, when the show was brought into television in 1948. The show is a progenitor of later, similar programs such as Star Search, American Idol and America's Got Talent.[1]
Among the talent discovered on the program who would later become famous in their own right were Ann-Margret, Frank Sinatra, Pat Boone, Raul Julia, Irene Cara and Gladys Knight. It ran on all of the Big Three TV networks as well as the now-defunct DuMont channel at some points from 1948 to September 27, 1970[2], when Mack cancelled the show of his own volition. It was among the first CBS shows to be excised due to attracting too many viewers of an advanced age.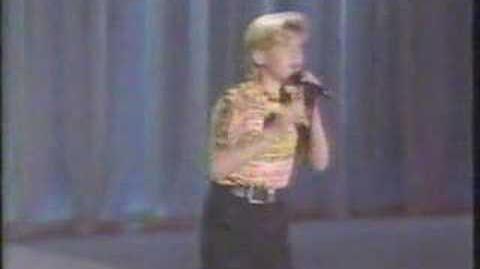 In 1992, a relaunched version of the show entitled The New Original Amateur Hour aired on The Family Channel (now ABC Family, soon to become Freeform), hosted by weatherman Willard Scott and filmed at Universal Studios in Orlando, Florida. Despite being a critical and commercial darling, it only lasted 12 episodes, none of which have reaired since then. The revival is also notable for featuring future Backstreet Boy Nick Carter, who won first place in one of the episodes[3]. A short clip of him performing, along with his introduction, can be found on YouTube[4].
While clips from the 1940's to 1970 are easily found on YouTube, the 1992 version is quite rare, despite having aired in a time where home recording was extremely common. Though no full episodes can be found, several other clips besides Carter's have made their way to the Internet. One of them is another winning performance, by Jamie Brayden, who had won a 7-day Caribbean cruise for her performance of the Righteous Brothers' "Unchained Melody"[5]. The Florida State University Circus made several appearances on the show, all of which they uploaded to their YouTube channel[6][7][8]. Singer Karista Smith, or Karista Cook as she was known when she appeared on the show (and placed second), uploaded her performance to her Facebook page.[9] Two promos featuring other clips of the show can be found in a collection of Family Channel promos from around the time the show came out.[10]
A segment dedicated to The New Original Amateur Hour can be found on a two-disc documentary about The Original Amateur Hour and its incarnations which can be purchased online.[11] The company that holds the rights to the show has many of the Amateur shows through the years stored in the Library of Congress archives[12], and have given copies of these shows to viewers by special order. It is possible that The New Original Amateur Hour exists in full through the Congress.
Ad blocker interference detected!
Wikia is a free-to-use site that makes money from advertising. We have a modified experience for viewers using ad blockers

Wikia is not accessible if you've made further modifications. Remove the custom ad blocker rule(s) and the page will load as expected.