When The Muppet Show first aired, different promotional spots were used to promote each episode. They mainly featured Kermit the Frog and Fozzie Bear doing a different gag. Some remain lost. However, a majority from season 1 appeared on "The Muppet Show: Season 1" DVD, and also can be found online.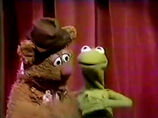 Promos
Juliet Prowse
Connie Stevens
Joel Grey
Ruth Buzzi (FOUND!)
Rita Moreno
Jim Nabors
Florence Henderson (FOUND!)
Paul Williams (FOUND!)
Charles Aznavour
Harvey Korman
Lena Horne
Peter Ustinov (FOUND!)
Bruce Forsyth (FOUND!)
Sandy Duncan (FOUND!)
Candice Bergen
Avery Schreiber
Ben Vereen
Phyllis Diller (FOUND!)
Ad blocker interference detected!
Wikia is a free-to-use site that makes money from advertising. We have a modified experience for viewers using ad blockers

Wikia is not accessible if you've made further modifications. Remove the custom ad blocker rule(s) and the page will load as expected.