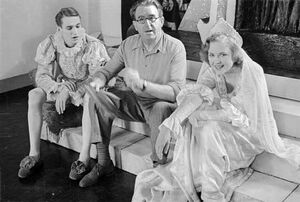 The Magic Shoes is a 1935 Australian short film that was directed by Claude Flemming. The short was an adaptation of the Cinderella fairytale, and is notable for being actor Peter Finch's first on-screen performance. Interestingly, it also starred Helen Hughes, daughter of then Prime Minister Morris Hughes. The creators of the short were unsuccessful in finding a distributor, and as such, it never ended up receiving any form of commercial release, eventually fading into obscurity, before being officially classified as a lost film by the National Film and Sound Archive of Australia (who cite the film as one of their most-wanted).
In 2006, a National Film and Sound Archive intern named Ellie Bennett was assigned the task of going through and sorting a briefcase full of memorabilia that had been donated by the late cameraman Mel Nichols, who was, incidentally, part of the production team of The Magic Shoes. To everyone's surprise, amongst the materials within was a roll of nitrate film, containing 33 production stills from the lost short; an incredible find, given that pictures of Helen Hughes had, up until that point, been extremely rare, and the fact that these photos would likely be the only pieces of physical evidence of the film ever again seen by the public.[1][2]
Besides the aforementioned photographs, no other material from the film has surfaced, and no known copies of the film itself remain. Still, the National Film and Sound Archive remain optimistic that someone out there may be in possession of a copy, not yet having realised its immense rarity.
References
↑ National Film and Sound Archive of Australia page on lost Australian films, featuring 20 of the 33 rediscovered production stills from the short. Retrieved 30 Jul '13
↑ Australian Film Commission (now part of Screen Australia) page on the lost short. Retrieved 30 Jul '13.
Ad blocker interference detected!
Wikia is a free-to-use site that makes money from advertising. We have a modified experience for viewers using ad blockers

Wikia is not accessible if you've made further modifications. Remove the custom ad blocker rule(s) and the page will load as expected.