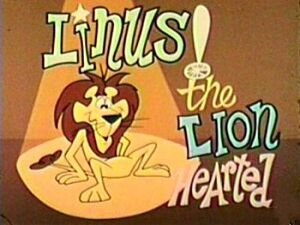 The Linus the Lionhearted Show was a television program first aired in 1964 created by Post based on their cereal mascots. The show aired for two seasons on CBS, and later went into reruns on ABC. Most episodes of the series are considered lost, and bootleg tapes of some full episodes are out of circulation. In 1969, the show was cancelled due to the fact the FCC banned all children's shows related to products. Only three full episodes have been found and uploaded onto YouTube.
See Also
Ad blocker interference detected!
Wikia is a free-to-use site that makes money from advertising. We have a modified experience for viewers using ad blockers

Wikia is not accessible if you've made further modifications. Remove the custom ad blocker rule(s) and the page will load as expected.