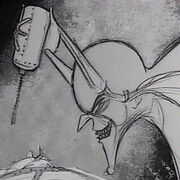 The Island of Doctor Agor is a 1971 American short animated film written and directed by then-thirteen-year-old Tim Burton, who also starred in the title role of Doctor Agor. The short is one of Burton's first animated films, and was adapted by Burton from the H. G. Wells story The Island of Doctor Moreau.
In the 2006 book Burton on Burton, Burton himself specifically speaks of the film when recounting his early days making Super 8 films.
Tim Burton Created a sequel 8 years later in 1979 entitled Stalk of the Celery Monster, which followed a mad dentist named Dr. Maxwell Payne and his weird experiments.
While footage from Stalk of the Celery Monster has resurfaced, no footage from The Island of Doctor Agor has been found.
Resources
http://en.wikipedia.org/wiki/The_Island_of_Doctor_Agor
Ad blocker interference detected!
Wikia is a free-to-use site that makes money from advertising. We have a modified experience for viewers using ad blockers

Wikia is not accessible if you've made further modifications. Remove the custom ad blocker rule(s) and the page will load as expected.