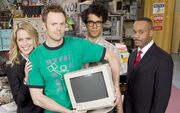 The popular British TV series
The IT Crowd
was set for an American adaptation to bring it over to American audiences in a "proper" way at one point, to be aired by NBC and to premiere in 2007, as well as to star Joel McHale as Roy, Richard Ayoade to reprise his role as Moss, Jessica St. Clair as Jen and Rocky Carroll as Denholm. It would be produced by FremantleMedia for Universal Media Studios and with Steve Tao and the original show's creator Graham Linehan serving as executive producers (though Linehan states that he had no involvement in the project) and was to be written by four writers: David Guarascio, Moses Port, Joe Port and Joe Wiseman. A pilot was shot in January 2007, and a full series was ordered by NBC to air in 2007-2008, but by September 2007
The Hollywood Reporter
reported that the show had not gone into production and was to be cancelled, as the series "didn't quite spark" with the new NBC chairman Ben Silverman, leaving a number of scripts for episodes not made in the dust.
Despite this, the pilot was leaked online in 2012, and was criticized for being basically just the exact same thing as the original show, just with different accents and actors (one of them even being the exact same actor from the original) and questioning why they adapted it in the first place when they could have just aired the original series instead if it was so similar. But whether they were also just bare-bone duplicates of the original's pre-existing episodes or not, the remaing scripts made for the adaptation are still unseen to this day.
Ad blocker interference detected!
Wikia is a free-to-use site that makes money from advertising. We have a modified experience for viewers using ad blockers

Wikia is not accessible if you've made further modifications. Remove the custom ad blocker rule(s) and the page will load as expected.