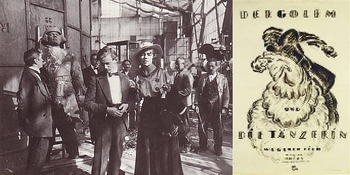 The Golem and the Dancing Girl was a silent 1917 German comedy film that parodied the previous 1915 horror film The Golem. Once again, it was written, co-directed by and starred Paul Wegener. Not much is known about the plot of the film other than Wegener apparently plays himself who decides to dress up as the character of The Golem as part of a practical joke, only to have humorous complications ensue.
The film is completely lost and hasn't been seen for many years, all that remains of its existence so far is the cast list,[1] a poster, and a still photograph.
References
↑ IMDb page for The Golem and the Dancing Girl. Retrieved 17 Mar '13.
Ad blocker interference detected!
Wikia is a free-to-use site that makes money from advertising. We have a modified experience for viewers using ad blockers

Wikia is not accessible if you've made further modifications. Remove the custom ad blocker rule(s) and the page will load as expected.