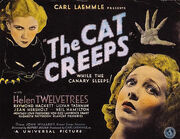 The Cat Creeps, originally released in 1930, is Universal Horrors first sound horror movie.
It was a remake of 1927's The Cat and The Canary, also by Universal. It was shot both in English and Spanish (as would be done for Universal's famous adaptation of Dracula soon after).
The film is lost in almost its entirety, and all that remains of it are its soundtrack and a few clips that were used in the 1932 comedy film Boo (that made fun of different horror films' footage).
The movie was remade again by Universal in 1946.
Ad blocker interference detected!
Wikia is a free-to-use site that makes money from advertising. We have a modified experience for viewers using ad blockers

Wikia is not accessible if you've made further modifications. Remove the custom ad blocker rule(s) and the page will load as expected.