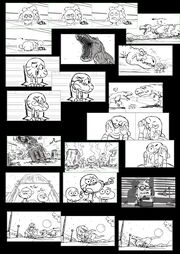 In 2012, prior to its premiere, a complete list of season-two episodes of The Amazing World of Gumball was leaked online. Included in this list, strangely, was an unaired episode titled "The Rex", which later got abandoned due to the fact that the creators of the show thought that the episode was a complete waste of money.
Very little about this episode has been released on the Internet, except for a single storyboard that was once on Jean Texier's website (alongside storyboards for the rest of the episode), which shows Tina Rex and her father attacking the titular character, Gumball, and a shot of a ravaged city. It may get reworked into a less pricey episode during Season 4.
Ad blocker interference detected!
Wikia is a free-to-use site that makes money from advertising. We have a modified experience for viewers using ad blockers

Wikia is not accessible if you've made further modifications. Remove the custom ad blocker rule(s) and the page will load as expected.