Sylvan is a Spanish animated series produced by D'Ocon Films and created by Antoni D'Ocon.
The show centers on the character, Sylvan and his "heroic fantasy adventures in the Middle Ages. Sylvan is a swordsman hero of King Charles, who defends and protects the kingdom from the evil forces".
Copies of the original series and the episodes are hard to find, and most people might assume the episodes are just a series of short films made by high-schoolers in Adobe Flash, even thought the show "came out, and got cancelled before flash existed."
Character galleries
Now if you'll excuse me, I'm off to travel around the world to find this! See you sometime!
--We are ze robots. TheworldofBingbang32 17:57, December 20, 2015 (UTC)
Findings
6/15/2016 I manage to find some unseen screenshots of the show of some website as you can see in the right.
I also found a Russian website that has some Sylvan episodes. I tried to download them. Link: http://video.meta.ua/search/?query=Sylvan&x=0&y=0 . That all I found so far.
-DanielBermudez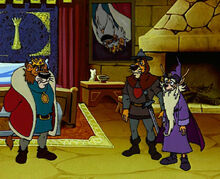 See also
Ad blocker interference detected!
Wikia is a free-to-use site that makes money from advertising. We have a modified experience for viewers using ad blockers

Wikia is not accessible if you've made further modifications. Remove the custom ad blocker rule(s) and the page will load as expected.