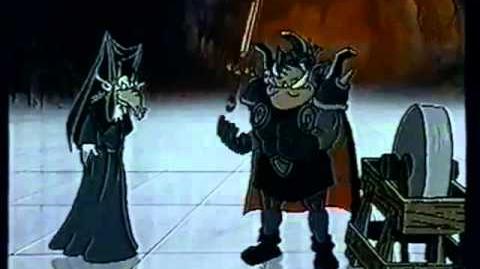 Sylvan is a Spanish animated series produced by D'Ocon Films and created by Antoni D'Ocon.
The show centers on the character, Sylvan and his "heroic fantasy adventures in the Middle Ages. Sylvan is a swordsman hero of King Charles, who defends and protects the kingdom from the evil forces".
Copies of the original series are hard to find, especially in Catalan, Spanish, or English, and most people might assume the episodes are just a series of short films made by high-schoolers in Adobe Flash, But the show "aired and ended in 1994 and 1995 and the first version of of Flash was released in 1996 as Macromedia Flash 1."
A English dub was produced, however, only the intro has surfaced on the internet.
The dub might have aired in the United States, and according to a comment on this page this dub aired in South Africa. According to StrikerSA, A artist from South Africa, The show aired in SABC (South African Broadcasting Corporation) and sometimes has reruns on kykNET.
See also
Ad blocker interference detected!
Wikia is a free-to-use site that makes money from advertising. We have a modified experience for viewers using ad blockers

Wikia is not accessible if you've made further modifications. Remove the custom ad blocker rule(s) and the page will load as expected.