The second installment in the now long-running AFL-NFL Super Bowl series was played and broadcast live on January 14, 1968, with the outcome of the game seeing the Green Bay Packers triumph over the Oakland Raiders 33 to 14. As it aired such a long time ago, it had been considered lost for many years, with the only remnants of the broadcast remaining being a few photographs (the majority of which were published in the January 8, 1969 issue of Sports Illustrated), as well as the game play information that was written down during the broadcast.
In recent years, it has been alleged that a copy was found in the vault of NFL Films and that said copy was being restored for re-release, although this claim has not been confirmed and has actually been directly denied by an NFL Films employee. Despite this, a reconstructed copy did show up on YouTube in March 2013, using still photographs, video snippets and the entire, unedited audio track, although it has since been removed due to a copyright claim by the NFL. It is currently unclear as to how said audio was obtained by the uploader (LambeauPackerBacker) in the first place. However, twenty-two minutes of highlight footage has surfaced online in November 2013, courtesy of the official YouTube Super Bowl channel. As of 2016, the highlight video has been taken down due to copyright claims.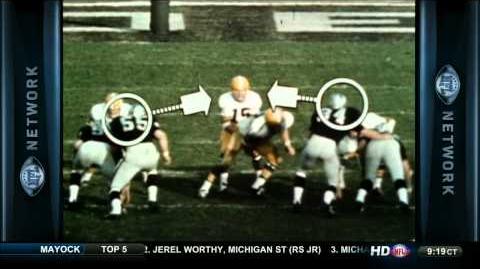 Photographs
Ad blocker interference detected!
Wikia is a free-to-use site that makes money from advertising. We have a modified experience for viewers using ad blockers

Wikia is not accessible if you've made further modifications. Remove the custom ad blocker rule(s) and the page will load as expected.