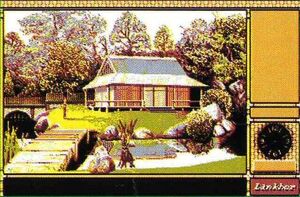 Sukiya was originally developed as a point-and-click adventure game set in Japan, developed by Lankhor. The main designer, Jérôme Lange, also authored point-and-click adventures Mortville Manor and Maupiti Island.
The game was announced as early as 1990 with preview screenshots that were considered impressive for the time. Unfortunately, poor sales on Lankhor's 1993 Black Sect put an halt to the development on Sukiya, which probably saw it as a sign to stop making adventure games.
No playable copy of the game has ever surfaced.
References
↑ abandonware-france.org page on Sukiya, featuring multiple screenshots. Retrieved 06 Nov '13.
Ad blocker interference detected!
Wikia is a free-to-use site that makes money from advertising. We have a modified experience for viewers using ad blockers

Wikia is not accessible if you've made further modifications. Remove the custom ad blocker rule(s) and the page will load as expected.