Star Vs. The Forces of Evil, created by Daron Nefcy, is a Disney XD series featuring a female protagonist named Star Butterfly. The show can be considered a "Magical girl" series. As of September 11, 2015, twenty-two episodes have aired, but the original pilot hasn't.
The pilot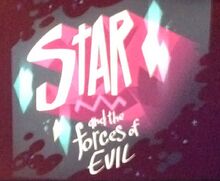 This unaired pilot was named "Star And The Forces of Evil" instead of "Star vs. The Forces of Evil". It has notable changes between the final product, such as Star and Marco's designs. The most notable one is Star's design. Another change, was the animation. In the rescued gifs, we can see that the animation is in slightly lower quality in comparison with the final product. That is shown in Star's hair movement in the gif of her hitting a monster with her wand.
Not much is known about this pilot, but some images and gif archives were rescued from the Mercury Films Works demo reel video, which is presumably lost. The Mercury Films Works website does not appear to have this material.
It is believed that the theme song that was shown at San Diego Comic-Con was part of this pilot, due to the final version of the song being slowed down.
Images
Ad blocker interference detected!
Wikia is a free-to-use site that makes money from advertising. We have a modified experience for viewers using ad blockers

Wikia is not accessible if you've made further modifications. Remove the custom ad blocker rule(s) and the page will load as expected.