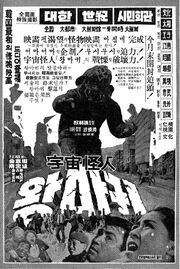 Space Monster Wangmagwi
, also known as
Big Monster Wangmagwi
, is a 1967 South Korean kaiju film.
[1]
The film has never been released on any home media format, and no bootleg recordings are known to exist.
The film, featuring the title monster on a Godzilla style rampage, has been shown at Korean film festivals, and the Korean Movie Database lists three prints of the film in the Korean film archive.[2] Detailed reviews of the film from these screenings are available online.
It is claimed that the film featured more extras than any other film (roughly 157,000),
[3]
other than the 1982 film
Gandhi
(at 300,000 extras), and this claim has even appeared in
The Guinness Book of Records
.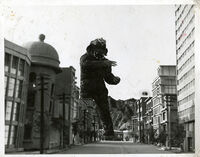 In 2008, Korean graphic designer Hong Gi-hun created a series of vinyl toys based on several Korean monster movies, including
Wangmagwi
.
[4]
Hong is said to have attended multiple screenings of the film over a period of a few years, confirming that, while unreleased on home media,
Space Monster Wangmagwi
is still occasionally shown in its home country.
References
Ad blocker interference detected!
Wikia is a free-to-use site that makes money from advertising. We have a modified experience for viewers using ad blockers

Wikia is not accessible if you've made further modifications. Remove the custom ad blocker rule(s) and the page will load as expected.