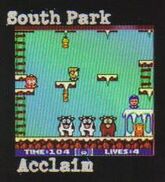 South Park
is an unreleased video game based on the Comedy Central series of the same name, developed for the Game Boy Color handheld system by Acclaim Entertainment, and was set for a 1998 release.
History
In the midst of the show's runaway success, Acclaim started development on a first-person shooter based on the series for the Nintendo 64, PlayStation, PC and a 2D Platformer for the Game Boy Color. The game was fully developed and prepared for shipment. However, days before being sent to Nintendo,
South Park
creators Trey Parker and Matt Stone discussed that the Game Boy Color was marketed more towards children, and the GBC version went unreleased. Parker and Stone later kept the prototype copies in commemoration of it being the first South Park game ever. The game was later reprogrammed and released as
Maya The Bee
in Europe and
The New Adventures of Mary Kate and Ashley
in the United States. The sprites of the boys can be found in the
Maya The Bee
ROM.

References
South Park (GBC) on Unseen 64. Retrieved April 17, 2015.