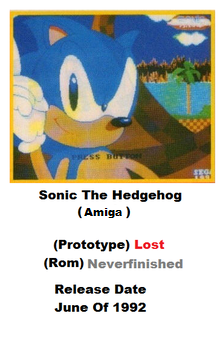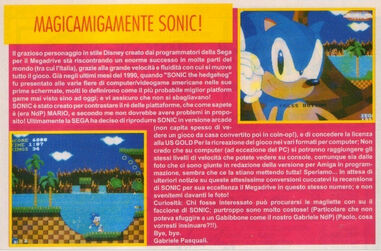 In September 12 of 1991, the Italian gaming magazine known as 'The Games Machine' had a article talking about the original Sonic the Hedgehog being ported to computers such as the Commodore Amiga. It was going to be published by U.S Gold and it probably would be released in June 27 of 1992. However, for unknown reasons it was never released (possibly due to disagreements between Sega and U.S Gold).
(ROUGH) Translation of the article:
"Magicamigamente Sonic! The charming character in Disney style created by programmers of Sega Megadrive for is having a huge success in many parts of the world (including Italy), thanks to the great speed and fluidity with which he moves throughout the game. Already in the last months of 1990, when "Sonic the Hedgehog" was presented at various American computer fairs / video games in his first screens, many called him as the likely best platformer ever seen to date; and I assure you that they were not wrong! SONIC has been created to fight the king of plattaforme, which as you know, and (was NDP) MARIO, and in my opinion should not have problems in this regard! Lately SEGA has decided to play in the arcade version SONIC (not often you see a game from home then converted into coin-op!), And to grant the license to the US GOLD For recreation of the game in various computer formats; I do not think of computers (except PC) you can reach the same levels of speed you can see on the console, however, is from the photos we have received in the newsroom of the Amiga version in programming, it seems that we are contemplating going all out! We hope ... Look forward to more news about this highly anticipated conversions of Sonic review for His Excellency the Megardive in this issue; and not in front of the photos! Curiosities: Anyone interested can obtain T-shirts of the big face of SONIC; unfortunately they are very expensive! (Particular that he could not escape a Gabibbone as our Gabriele NdP) (Paul, what would you suggest? !!). Bye, bye. Gabriele Pasquali."
Ad blocker interference detected!
Wikia is a free-to-use site that makes money from advertising. We have a modified experience for viewers using ad blockers

Wikia is not accessible if you've made further modifications. Remove the custom ad blocker rule(s) and the page will load as expected.