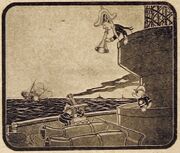 In 1918, one year after the release of El Apóstol, Quirino Cristiani made a second animated film called Sin Dejar Rastros (or "Without a Trace" when translated from Spanish).
The plot of the film was about an incident that was recent at the time where the German Commander Baron von Luxburg, sank an Argentine Ship, intending to frame the Entente (an ally of World War I for Spain) for performing the act. However, reports from the survivors of the incident showed what really happened on board.
This film wasn't as successful as the previous one he made, and was confiscated by the Ministry of Foreign Affairs and Worship, in Argentina by the order of the Former 19th President of Argentina, Hipolito Yrigoyen. There is very little information on this film, and it is currently unknown if any of copies of the film still exist within the hands of anybody, including the Ministry.
Ad blocker interference detected!
Wikia is a free-to-use site that makes money from advertising. We have a modified experience for viewers using ad blockers

Wikia is not accessible if you've made further modifications. Remove the custom ad blocker rule(s) and the page will load as expected.