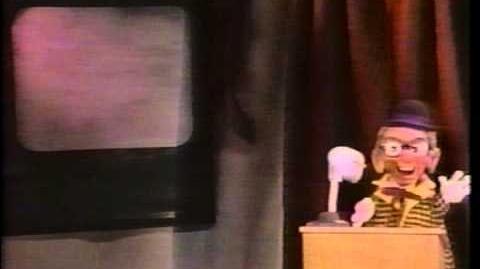 Tribute to JJ Silvers is a Shining Time Station video that features the Jukebox Band. This video was never released on video but on July 25th 2013, it was finally uploaded on YouTube as it was being found.
Description
In this video, JJ Silvers tells the audience how the Jukebox Band got started, and how they become stars. JJ Silvers gets upset that he thinks the band hates him, but finds out later that the band loves him, because he made them stars.
Songs
A Railroader's Bride I'll Be from Two Old Hands (flashback version)
My Bonnie Lies Over the Ocean from Nickel in a Pickle
Take Me Out to the Ballgame (new version)
Eerie Canal from Sweet and Sour
Wabash Cannonball from Faith, Hope and Anxiety
This Train from Double Trouble
I've Been Working on the Railroad from A Place Unlike Any Other (new version)
I've Been Working on the Railroad (second version)
Camptown Races from Does It Bite?
She'll Be Coming Round the Mountain from And the Band Played Off
She'll Be Coming Round the Mountain (second version)
There's No Business Like Show Business from Mr. Conductor's Movie
Trivia
Other Flexitoon puppets appear in this video.
Craig Marin send a letter to SIF Fansite, stating that 4 Jukebox Band videos were made.
Ad blocker interference detected!
Wikia is a free-to-use site that makes money from advertising. We have a modified experience for viewers using ad blockers

Wikia is not accessible if you've made further modifications. Remove the custom ad blocker rule(s) and the page will load as expected.