Sea Princesses (known as Princesas do Mar in Brazil) is a cartoon based on a series of children's books created by the Brazilian writer and cartoonist Fábio Yabu. The cartoon was produced by Spanish studio, Neptuno Films and Australian distributor, Southern Star Entertainment (now Endemol Australia). Two seasons of 52 10-minute episodes were made, making a total of 104 episodes. Sea Princesses was broadcast in various languages, including Portuguese, Spanish, English, Arabic, Czech, French, German, Hungarian, Italian, Romanian, Serbian and Slovene. For the purposes of this wiki, however, this article will be focusing on the English version of this cartoon.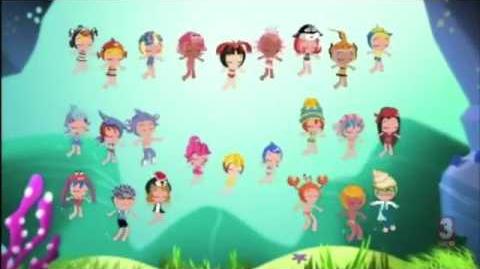 Sea Princesses was originally broadcast on the Seven Network in 2007 before it was moved to the ABC a few years later. Despite the fact that many Sea Princesses episodes in other languages were uploaded to YouTube, no English episodes were uploaded, aside from the Season 2 episode The Big Game, which was originally uploaded on December 14, 2011[1], but was copyright blocked by Endemol Shine Australia as of March 2017[2]. Additionally, as a result of this copyright claim, many more Sea Princesses videos were deleted as a result, with the only surviving English episode (as of August 4, 2017) on YouTube being the Season 2 episode Size Matters, which was ripped from ABC iView.
Attempt at subtitling the series

On February 23, 2017, an anonymous fansubber on 4chan's /co/ board (for cartoons) began subtitling the Spanish Disney Channel version of Sea Princesses[3] into English with the intention of holding a "Sea Princesses Wednesday", where he would upload hardsubbed versions of the episodes to YouTube[4] and MEGA. Unfortunately, only the first four episodes of the first season were subtitled, as he mysteriously stopped uploading following his March 8, 2017 release. As of March 21, 2017, the four subtitled episodes on YouTube were also blocked by Endemol Shine Australia on copyright grounds. The MEGA folder containing the episodes is inaccessible as of June 2017.
Keeping Sea Princesses alive (a message from Azuma Yeonchi)
Hello, readers and staff of the Lost Media Archive. I'm Azuma Yeonchi, (main) contributor at the Sea Princesses Wiki. I found the wiki in 2016 and seeing the poor state of it (vague articles and grammatical errors), I decided to put myself to work updating the character articles. At the time, Sea Princesses was being broadcast on ABC3 and the episodes were on iView, so I created many screenshots of the characters and used them on the wiki. However, I didn't know that there was a program that I could use to download the episodes from iView until quite late in the year. By that time, Sea Princesses had stopped broadcasting on ABC3 (halfway through the second season, I might add)[5] and so, I could only salvage two episodes from iView, namely The Runaway Grandmother and the aforementioned Size Matters.
Additionally, I also have two other episodes of the English dub, namely Lost (the first episode) and The Big Game, which was originally featured on the Neptuno Films YouTube channel. However, these episodes are not of the same quality as the salvaged iView episodes, but they are, at least, clear and watchable.
I don't know if this helps, but I have uploaded the dubbed and subbed episodes I have onto my cloud drive. I will not be uploading those videos to YouTube myself because of the copyright claim, but you may feel free to download them and reupload them to YouTube yourself if you wish.
I have also uploaded all 104 raw episodes from the Spanish Disney Channel to my cloud drive because when I first saw that the subbed episodes were being taken down by copyright, I had a feeling that they would go for the raw episodes as well. And by golly, I was right. Anyway, I was inspired by the mysterious 4chan fansubber and so, I began thinking about starting a sub group to continue subtitling the episodes in his place, because I don't think I can do it alone. If you are interested in helping me do this, then please feel free to contact me.
References
External Links
Ad blocker interference detected!
Wikia is a free-to-use site that makes money from advertising. We have a modified experience for viewers using ad blockers

Wikia is not accessible if you've made further modifications. Remove the custom ad blocker rule(s) and the page will load as expected.