Sąsiedzi 2012 - in 2010, a Polish YouTube user called SlaviaConsesiao began to make videos, fairly known from his Pat & Mat funny videos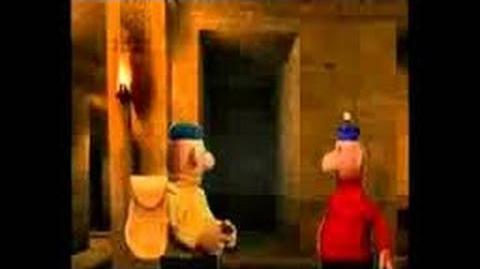 released a series of fabular, long YouTube Poop-esque videos called Sąsiedzi 2012, about Pat & Mat going to save the world from the impending apocalypse. The series was met with community acclaim and was very popular, but was removed in 2012-2013 due to removal of his account by YouTube and remained unfinished. It was supposed to last for four or five episodes, but only two were completed. The third one was released in an unfinished state, without any music and lacking the majority of SFX. While the reuploads of the first two episodes exist in very good quality, the third one never got reuploaded in a good quality - there exists a very poorly and blurred recorded version of it (presumably with a video camera set in front of a monitor on a stand) without any original sound replaced by a music that wasn't the part of the original video, made by the user Rakso 98. This same person has screens from the Video and one of the parts. Slavia, however, has a Dailymotion account where he still makes his content. It is unknown what the account is, but he seems to have the videos with the unfortunate lost "third part". He also has an alternative Youtube account (SlaviaWK - Slavia Wysoki Kontrast - Slavia High Contrast), but it's very inactive and has only three videos. Link to his alt. Youtube account: https://www.youtube.com/user/SlaviaWK
The episode 3 "Echo of death" was eventually uploaded to YouTube in late 2017, by the user Rakso 98 Lite, taken from his private VHS. However this version is full (with the missing last minute).
See also
Ad blocker interference detected!
Wikia is a free-to-use site that makes money from advertising. We have a modified experience for viewers using ad blockers

Wikia is not accessible if you've made further modifications. Remove the custom ad blocker rule(s) and the page will load as expected.