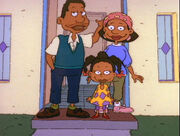 Rugrats was a popular Nickelodeon show that ran from 1991 to 2004. It is considered one of the best series on Nickelodeon of all time.
Information
In 1999 a spinoff of the Rugrats was to focus on Suzie Carmicheal and her family moving to a different town. The series never even made it into production and no screenshots exists. According to blameitonjorge the concept was cancelled to keep the Rugrats growing up together. The series was never made and not much information can be found on the Internet.
The series also had other spinoffs such as All Grown Up. Another spinoff was known as Rugrats: Preschool Daze and aired in the United Kingdom, However it only lasted 4 episodes, however those 4 episodes can be found on iTunes.
Ad blocker interference detected!
Wikia is a free-to-use site that makes money from advertising. We have a modified experience for viewers using ad blockers

Wikia is not accessible if you've made further modifications. Remove the custom ad blocker rule(s) and the page will load as expected.