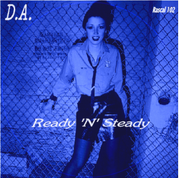 "Ready 'N' Steady"
was a lost 1979 record by recording artist D.A., which appeared on several charts. The single was supposedly made by Rascal Records, but the radio show Crap From The Past debunked this, saying that Rascal was "Somebody's Dogs Name."
History
"Ready 'N' Steady" first landed on Billboard's Bubbling Under Hot 100 chart at number 106. In the next issue, it climbed higher to 103, before reaching a peak listing at number 102 the issue after that. The single's time on the chart was short, and the limelight was a brief three weeks for the single. The song has never been listed since, and many rumors and doubts as to its existence have circulated, with music historian Joel Whitburn, having collected 45s of every song to hit the charts except for this one, has tried searching desperately for proof of its existence in 1995.[1]
The song was officially located in 2016 and played on the Crap From The Past radio show and was uploaded to YouTube by the user Lost Media Hunter.[2]
References
↑ All known information on "Ready 'N' Steady". 06-30-1995. Horowitz, R. Retrieved April 27, 2015.
Ad blocker interference detected!
Wikia is a free-to-use site that makes money from advertising. We have a modified experience for viewers using ad blockers

Wikia is not accessible if you've made further modifications. Remove the custom ad blocker rule(s) and the page will load as expected.