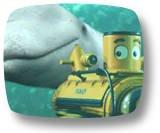 Theodore Tugboat. The show focused on the character Pugwash (also known as Sophie). There are no commercials or screenshots of the project. There is only one screenshot with Pugwash next to a CGI whale.
Pugwash's Underwater Adventures (also known as Sophie the Sub) was a cancelled spin-off series based off of
Ad blocker interference detected!
Wikia is a free-to-use site that makes money from advertising. We have a modified experience for viewers using ad blockers

Wikia is not accessible if you've made further modifications. Remove the custom ad blocker rule(s) and the page will load as expected.