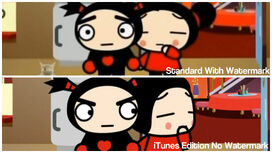 Hi everyone! In case you don't know what Pucca is it was a series on Jetix that aired in 2006 for a few years. It was released on iTunes in 2009, but taken down not so long after. The difference from which we know now is that it had no watermark, and the exclusive scenes that would play mostly before the next episode would start. Each episode was 7 minutes each, and was put into 3 in one. It was extremely unlikely we'd ever see an episode without a watermark or a in good quality without being blurry. Lucky for me (JayDisney) I plan to upload all the episodes to YouTube. It is unknown if they will get blocked or not though. I will update you as they get uploaded.
Ad blocker interference detected!
Wikia is a free-to-use site that makes money from advertising. We have a modified experience for viewers using ad blockers

Wikia is not accessible if you've made further modifications. Remove the custom ad blocker rule(s) and the page will load as expected.