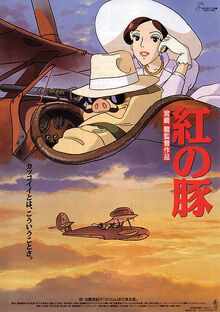 Porco Rosso is a 1992 Japanese animated comedy-adventure film written and directed by Hayao Miyazaki. It is based on Hikōtei Jidai, a three-part watercolor manga by Miyazaki.
About 6 years before Disney released their dub on the film, the film was dubbed into English by an anonymous company for the Japanese Airlines. It refereed to by fans as the JAL Dub (JAL is meant to be short for Japanese Airlines). This dub is extremely rare and was included in the Ghibli LD Box Set (English on the right analog track). Barry Gjerde voices Rosso in this dub, the rest of the cast is however unknown. From the information that is gathered this dub, unlike Disney's version, has a more hokey and cartoony attitude. The full version of the dub has yet to surface online, a few clips were uploaded to YouTube, but are currently blocked and cannot be found on any other site.
English Voice Cast
Ad blocker interference detected!
Wikia is a free-to-use site that makes money from advertising. We have a modified experience for viewers using ad blockers

Wikia is not accessible if you've made further modifications. Remove the custom ad blocker rule(s) and the page will load as expected.