Play Safe with the Tweenies was a series of 27 shorts[1] about being safe around certain situations (like railways and/or sheds). These shorts aired on the British children's channel CBeebies between 2003 and 2008. Only one short has come to light, as of now.[2] The shorts are also known as the 'Tweenies Safety Shorts'.[3]
About
Play Safe with the Tweenies, as the title suggests, was a show about being safe. The theme for the intro was remade and was much shorter than the Tweenies intro.[4]
Episodes are available on BBC Redux, however this service is only available to those with a functioning @bbc.co.uk e-mail address.
Intro
There are different scenes in the intro. A description of the scene will be on the left while the known episode would be on the right:
Max with a video camera - 'Throwing' (as the description shows that Max was planning to recording the children).
Bella smashing a teapot - 'Kettle and Teapot'.
Jake throwing sand at the camera - 'Throwing', maybe?
Milo with his birthday cake - 'Candles'?
Jake holding a breadknife - 'Knifes'
Bella holding a pair of dangerous garden cutters - 'Sheds'
Milo for some reason, is stuck upside down and Bella is trying to save him - Unknown.
Max with gardening gear - 'Sheds'.
Fizz finding dangerous bottles - 'Cleaning materials'.
Fizz tangled in wires - Might be 'Electric Sockets and Cables'.
Judy with a guitar - 'Railway Lines'.
Jake with scissors - Obviously 'Scissors'.
Doodles the dog tripping over a stuffed snake - 'Leaving toys around'.
Izzles the dog near soft shapes with Milo - 'Doors and Windows'
The Tweenies playing on the climbing frame - Might be 'Slides'.
Shorts
| Episode | Description | Found? |
| --- | --- | --- |
| Cleaning Materials | Fizz finds dangerous bottles and decides to play with them. | |
| Leaving Toys Left Around | The Tweenies carelessly trip over toys. | |
| Throwing | Max records the Tweenies playing. | |
| Sheds | Bella and Jake want to go to Max's shed. | |
| Swings | Izzles the dog is unsafe near a swing set. | |
| Slide | Milo is being unsafe on a slide. | |
| Matches | Jake finds matches. | |
| Don't Go There | The dangers of playing in a fridge. | |
| Lost | Max gets lost in a garden centre. | |
| Road Safety | The Tweenies learn about road safety. | |
| Dogs | Jake gets bitten by an unfriendly dog. | |
| Candles | It is Judy's birthday and he nearly gets burned by lighting her cake with a candle. | |
| Fire Safety | We learn about fire safety. | |
| Travelling by Train | We learn about train safety. | |
| Electric Sockets and Cables | The Tweenies learn about electricity. | |
| Knives | The Tweenies are learning about knife safety. A scene shown Jake holding a bread knife was in the intro. | |
| Ponds | Safety near ponds. | |
| Scissors | Jake plays with blunt scissors. | |
| Rivers | Safety near rivers. | |
| Dialling 999 | Bella tells the others about an emergency. | |
| Railway Lines | Max shows us how to be safe near train lines. | |
| Hot Cooker | Accidents with cookers. | |
| Kettle and Teapot | Bella thinks she is very good at making tea, but disaster strikes. Bella screaming when she smashed the teapot was in the intro. | |
| Canal | Safety with canals. | |
| Doors and Windows | Safety with doors and windows. | |
| Beach | Max goes to a beach. | |
| Horses | Safety near horses. | |
Videos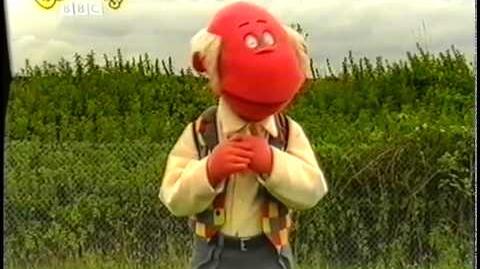 References
Ad blocker interference detected!
Wikia is a free-to-use site that makes money from advertising. We have a modified experience for viewers using ad blockers

Wikia is not accessible if you've made further modifications. Remove the custom ad blocker rule(s) and the page will load as expected.