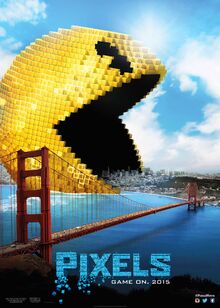 Pixels is a 2015 American science fiction action-comedy film directed by Chris Columbus and starring Adam Sandler. There was originally going to be a scene where the video game characters destroy the Great Wall of China according to the film's Wikipedia article but was removed from the script in hopes to improve the film's chances in the Chinese market. Another scene cut from the film was a post credits scene where we see Mario (from the Super Mario franchise) standing on top of a damaged Washington Monument. Columbus and the rest of the crew thought it was interesting but wanted the character somewhere else in the film. For some unknown reasons, the two scenes weren't featured in the the film's DVD release and it is unknown if both of these scenes were even developed yet. For now, the only information we can get is the film's Wikipedia article and a /Film page.
Ad blocker interference detected!
Wikia is a free-to-use site that makes money from advertising. We have a modified experience for viewers using ad blockers

Wikia is not accessible if you've made further modifications. Remove the custom ad blocker rule(s) and the page will load as expected.