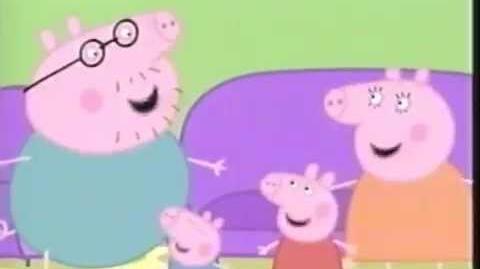 Peppa Pig
is one of the longest-running British animated preschool programs of all time, being shown in a whopping 180 territories, along with having tons of merchandise around the world. But prior to being aired on Nick Jr. in the 2010s,
Peppa Pig
was first shown to the American audience in 2005 when Cartoon Network launched its ill-fated preschool block,
Tickle U
. Around that time, they created an
American dub
, though a few episodes were aired with the original British audio. As
Tickle U
lasted only 1 year and a half, the U.S. dub died along with the block. The only trace of the dub is a 30-second promo video. All post-2007 U.S. releases of the show use the U.K. dub, which was previously seen everywhere else, most likely due to poor ratings on the U.S. dub.
Findings
The dub was produced in Miami, Florida at Chrom Studios.
Elaine Torres was the voice of Suzy Sheep, while Chloe Dolandis voiced Rebecca Rabbit and Emily Elephant.
See also