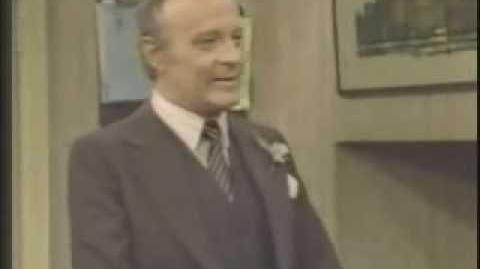 After years of writing for ABC's Barney Miller, Reinhold Weege created his first sitcom in 1981, a very short-lived CBS production entitled Park Place. Starring Harold Gould (Rhoda) as David Ross, the show was set in a Manhattan, NY legal-aid clinic whose lawyers and sage directors took cases via a "take a number" method. It aired opposite Checking In on Thursdays, but like its predecessor, four episodes aired before getting the ax. However, unlike Checking In, very little footage has been seen since 1981 (the resurfaced footage can be seen on the right).
Episodes
Bold text denotes found episode
1. Revenge (4/9/81)
2. Benign Neglect (4/16/81)
3. Marooned (4/23/81)
4. Crazy Judge (4/30/81)
Ad blocker interference detected!
Wikia is a free-to-use site that makes money from advertising. We have a modified experience for viewers using ad blockers

Wikia is not accessible if you've made further modifications. Remove the custom ad blocker rule(s) and the page will load as expected.