PBS Kids Island was an online educational game. It was about playing educational minigames and winning prizes. You would need a subscription to get in.
It's unknown when the game became defunct, although it was probably when PBS Kids rebranded in 2013.
Oddly, the site is still up. Going on the Wayback Machine won't work, as you still need a subscription.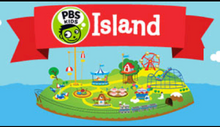 here is the advertisement for the game
Ad blocker interference detected!
Wikia is a free-to-use site that makes money from advertising. We have a modified experience for viewers using ad blockers

Wikia is not accessible if you've made further modifications. Remove the custom ad blocker rule(s) and the page will load as expected.